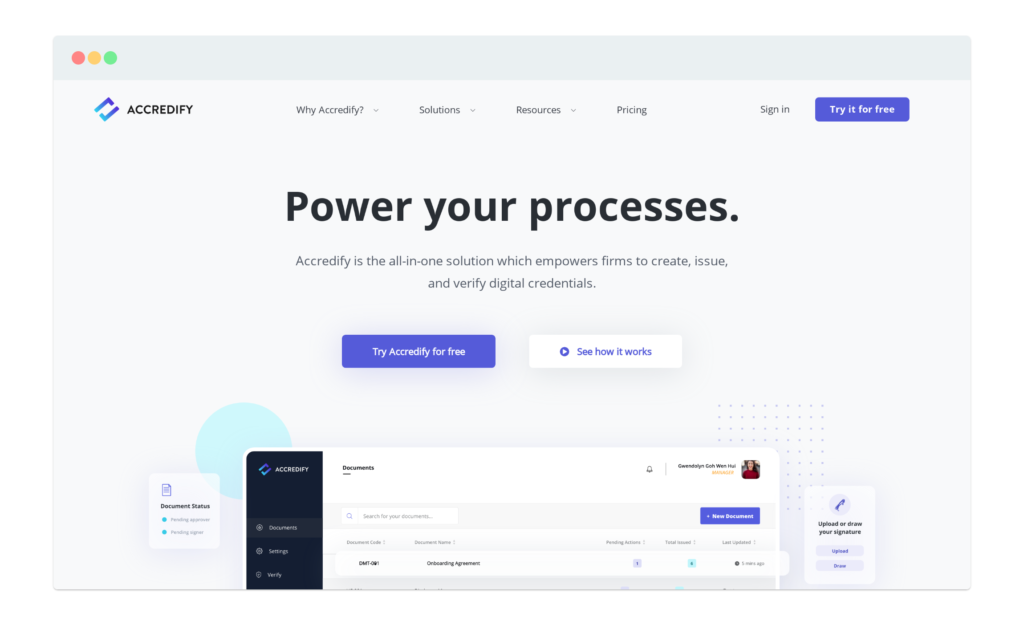 SINGAPORE, 16 July 2021 – Singapore-based firms Accredify and Breathonix today announced their collaboration to supply an on-site COVID-19 rapid-breath test system that issues digital verifiable COVID-19 test results compliant with countries' international travel and domestic health requirements in less than one minute.
Accredify and Breathonix will be integrating their existing products to provide a quick, reliable, and affordable on-site solution to test an individual's COVID-19 health status with a single breath sample. Breathonix's proprietary rapid breath test system, the BreFenceTM Go COVID-19 Breath Test System, will collect and analyse a patient's breath sample through a one-way disposable MouthShield. Accredify will then issue the verifiable digital COVID-19 breathalyzer test result to the patient on location.
The rapid breath test will provide a portable and efficient COVID health screening procedure to facilitate the reopening of physical offices, schools, and events.
With Accredify, BreFenceTM Go's digital breath test results will adhere to a country's required COVID-19 test result schema. As a result, Breathonix's breathalyzer test results will be internationally recognised and can be used for verification purposes by relevant authorities for international and domestic travel. Integration is currently underway with Breathonix's BreFenceTM Go systems in Singapore, Malaysia, and Vietnam.
The partnership follows Iata's announcement that personal travel might resume in the latter half of 2021, posing an urgent need for nations and authorities to source for an affordable mass-screening solution to swiftly verify a traveller's COVID health status.
"Partnering with Accredify will ensure that Breathonix's test result and data management is fully integrable with third party platforms and is in accordance with regulatory bodies.This is crucial as we begin to scale up our operations globally," said Wayne Wee, Co-founder and Head of Strategy and Business Development, Breathonix.
Through Accredify's numerous international partnerships, rapid breath certificates issued by the BreFenceTM Go COVID-19 Breath Test System will be recognised by 82 countries and 292 airlines. Rapid
breath certificates will also adhere to Singapore's HealthCerts schema, a template for digital COVID-19 test results which Accredify helped to co-develop and has since been mandated by the Singapore government.
"The safe reopening of workplaces and travel borders is crucial for economic revival, but a major difficulty which countries may encounter is the procurement of a reliable, scalable, and efficient method to verify that individuals are COVID compliant to manage reinfection and keep communities safe," said Quah Zheng Wei, Co-founder and CEO, Accredify, "Accredify and Breathonix's capabilities complement each other perfectly to offer an affordable solution to this problem. We're extremely excited to be working with Breathonix and hope our solution will help to jumpstart the global economy."

This partnership will go beyond Covid-19 as Breathonix develops breath test for other critical diseases such as early detection of Lung Cancer. This would revolutionise medical diagnostics and preserve the lives of millions.
To register your interest for a demo of Accredify's issuance system, please email [email protected]
To register your interest for a demo of Breathonix's BreFenceTM Go COVID-19 Breath Test System, please email [email protected]
About Accredify
Founded in 2019, Accredify is pioneering the adoption of verifiable data by providing organisations with an end-to-end solution to create and issue verifiable documents. With a presence in more than eight markets serving 900 clients globally, documents issued by Accredify have been verified close to 7 million times. With a dedicated team that embraces the highest standards of customer service, security, and privacy, Accredify's objective is to be the trusted solution for managing and verifying documents anywhere and anytime.
For more information, visit www.accredify.io and follow us on LinkedIn @Accredify
About Breathonix

Breathonix is a deep-tech venture specialising in advanced breath analysis technology for the early detection of various disease including COVID-19 and lung cancer. With Breathonix breath test, results are available within 60s on-site, the fastest on the market. Breathonix is dedicated to become the global leader in rapid breath tests for early detection and precision medicine
For more information, visit www.breathonix.com and follow us on LinkedIn @breathonix
Source: https://newsroom.accredify.io/press-release/press-release-accredify-and-breathonix-partner-to-issue-verifiable-test-results-for-60-second-covid-19-rapid-breath-test/